Weekly Action Recap (Oct 13th)
Your action recap for the week of October 13th, 2019
Level up your open finance game three times a week. I'm releasing this Free for Everyone until November 1. Get the Bankless program by subscribing below.
---
Dear Crypto Natives,
Another week of level ups!
Did you complete the weekly assignment and setup an ENS name yet? It's been fun to watch premium names get auctioned off.
Chatter in the Inner Circle this week on the ENS weekly assignment, fiat on-ramps, and Synthetix. Speaking of which, did you get your Inner Circle invite? Because a hundred new slots opened Monday—a seriously awesome resource!
And reminder: if you're a free subscriber this is your 2nd last Weekly Recap! 😢Yes, the free trial to the Bankless program is coming to close. But if you like the program and want to continue receiving it you can subscribe here.
-RSA
---
Recap for the week of October 13th, 2019
---
SCHEDULE RECAP:
---
ACTIONS RECAP:
Execute any good market opportunities you saw in Market Monday

Complete the weekly assignment: Setup an ENS Address for an ETH account

Make the commitment—don't lose the program! (see below)
---
MAKE THE COMMITMENT
The full program ends for free subscribers on November 1. But you can still subscribe as an Early Believer today to get:
20% off forever as a thank you for being an Early Believer

Full weekly program—Market Mondays, Tactics Tuesdays, & Strategic articles

Access to the Inner Circle & Deal Sheet

Access to Bonus Content
---
Don't lose the program—Subscribe Now!



No program interruption. 20% off forever. Inner Circle, Deals Sheet, Bonus content. Costs less than a coffee per week. Don't invest in crypto until you invest in yourself.
---
Pay with crypto
You can pay using ETH, BTC, or USDC. Annual subscription. Early Believer status.
---
You subscribed? Awesome. This program covers real stuff…not empty narratives
We're taking bankless mainstream…we made the front-page of substack today: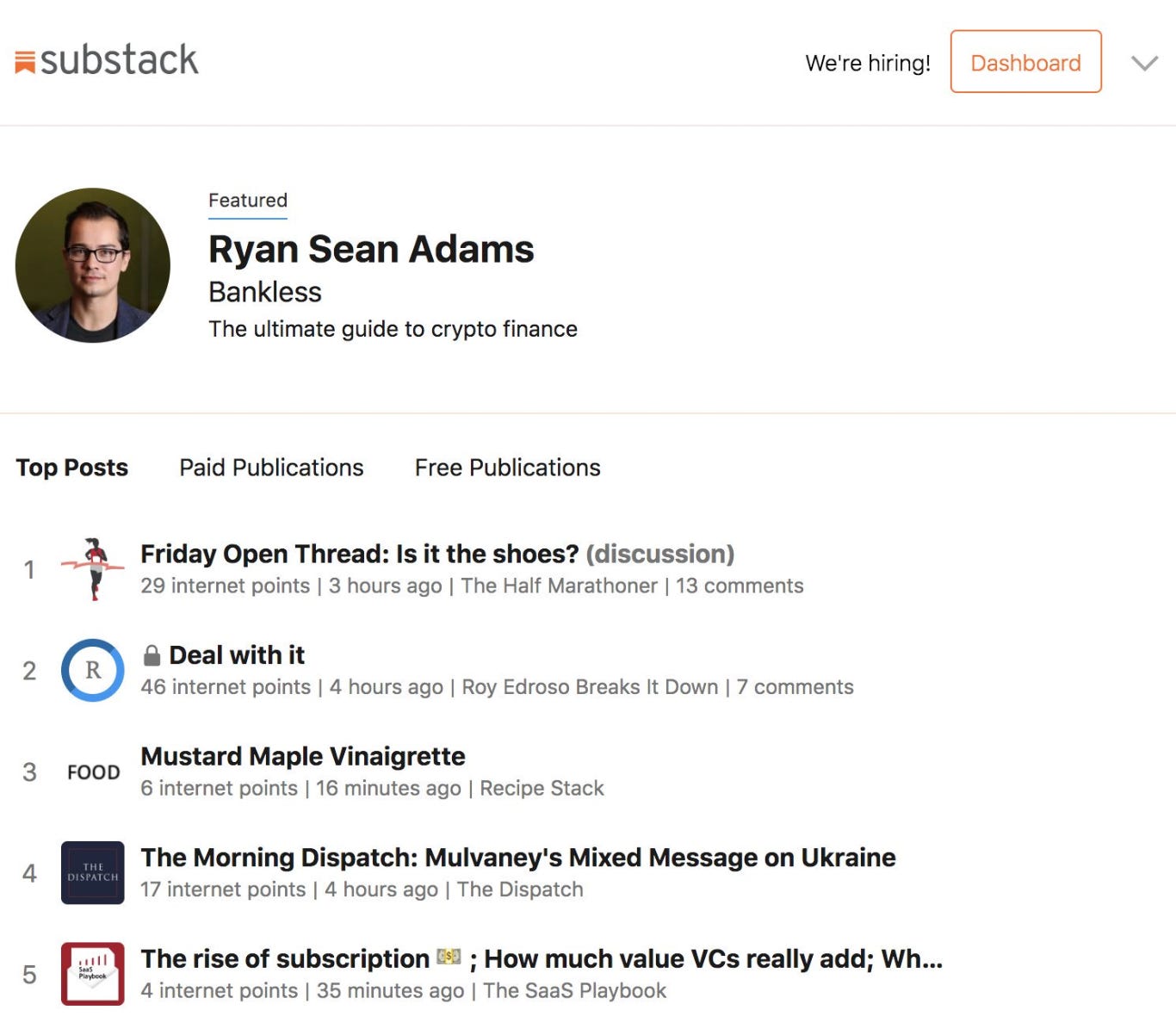 Tag me on twitter when you subscribe & I'll deliver 3 x 🔥.
We have 1 billion people to onboard.
Let's get going!
---
Not financial or tax advice. This newsletter is strictly educational and is not investment advice or a solicitation to buy or sell any assets or to make any financial decisions. This newsletter is not tax advice. Talk to your accountant. Do your own research.
---
Disclosure. From time-to-time I may add links in this newsletter to products I use. I may receive commission if you make a purchase through one of these links. I'll always disclose when this is the case