Weekly Action Recap
Your action recap for the week of December 28th, 2020
Did you know full subscribers already have access to next week's podcast? Front-run the crowd!
---
Dear Bankless Nation,
2020 is over. It's been quite the year.
We're already gearing up to accelerate the level-ups for you in 2021. Particularly for our full subscribers! So stay tuned. This is the year to invest in yourself.
And we just launched a newsletter completely focused on NFTs called Metaversal (here's issue #1). We think virtual worlds, collectibles, and NFTs going to have a huge year and we want to keep you up to speed—so make sure you subscribe to Metaversal.
Here's what we have planned for next week:
Podcast with Vitalik Buterin—full subscribers access now on Premium Feed!

We're dropping a tactic to teach you how to earn free tokens in the future

We'll figure out this algorithmic stablecoin thing together
Rest up and relax.
2021 is going to be a wild ride.
- RSA
---
🙏 Sponsor: Aave—earn high yields on deposits & borrow at the best possible rate! 
---
Recap for the week of December 28th, 2020
---
🎙️WEEKLY PODCAST EPISODE
Listen to episode 45 | iTunes | Spotify | YouTube | RSS Feed
---
SCHEDULE RECAP:
---
Weekly Badge Perks 🔥
The Bankless badge gives you access to perks like these:
Launch your own raffle for Bankless Badge holders! Go ahead. We can't stop you.
---
🗞️ Latest Weekly Rollup.Download the week in crypto to your brain in this 25 min show.
---
ACTION RECAP
Watch & Listen
🎙️ Listen to Taking Ethereum Public with Ether Capital
---
---
Go Bankless. $12 / mo. Includes archive access, Inner Circle & Badge—(pay w/ crypto)
---
🙏Thanks to our sponsor
Aave is a decentralised, open source and non-custodial liquidity protocol enabling users to earn interest on deposits and borrow assets. Aave Protocol is unique in that it tokenizes deposits as aTokens, which accrue interest in real time. It also pioneered Flash Loans and Credit Delegation as innovative DeFi building blocks. The Aave Protocol V2 makes the DeFi experience more seamless with features that allow you to swap your assets for the best yields on the market, and more. Check it out here.
---
Tag Bankless on twitter and tell us how you're going bankless for 3 x 🔥
Another podcast with Vitalik next week! Listen to our last one to prepare.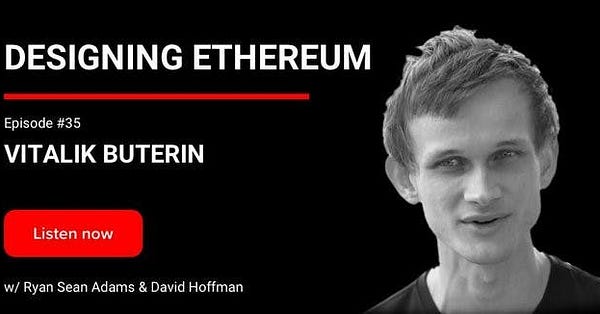 podcastnotes.org
Vitalik Buterin on Designing Ethereum | Bankless Podcast • Podcast Notes
Notes from Vitalik Buterin appeareance on Bankless podcast with David and Ryan. They discuss the 'why' behind Ethereum 2.0 design choices
---
Not financial or tax advice. This newsletter is strictly educational and is not investment advice or a solicitation to buy or sell any assets or to make any financial decisions. This newsletter is not tax advice. Talk to your accountant. Do your own research.
---
Disclosure. From time-to-time I may add links in this newsletter to products I use. I may receive commission if you make a purchase through one of these links. I'll always disclose when this is the case