The Yield Farming Premium - Market Monday LITE (08/24)
Why DeFi tokens are more valuable than I thought
If you're a full subscriber, join the discord for a live video AMA with Antonio Juliano of dYdX this Thursday at 2pm EST! If you're not a full subscriber…subscribe & we'll send a link!
---
Dear Bankless Nation,
I've missed something big until now.
A reason why DeFi tokens on Ethereum are more valuable that I thought.
They have a hidden premium I didn't previously account for —something so big it could propel the next crypto frenzy…for good and bad.
A farming premium.
What I missed
DeFi tokens are capital assets. That means they're valued based on future cash flows. In a rational market, the value of a capital asset like a stock, or house, or bond is based on the future cash flows a buyer thinks it will generate.
Same is true of a DeFi token.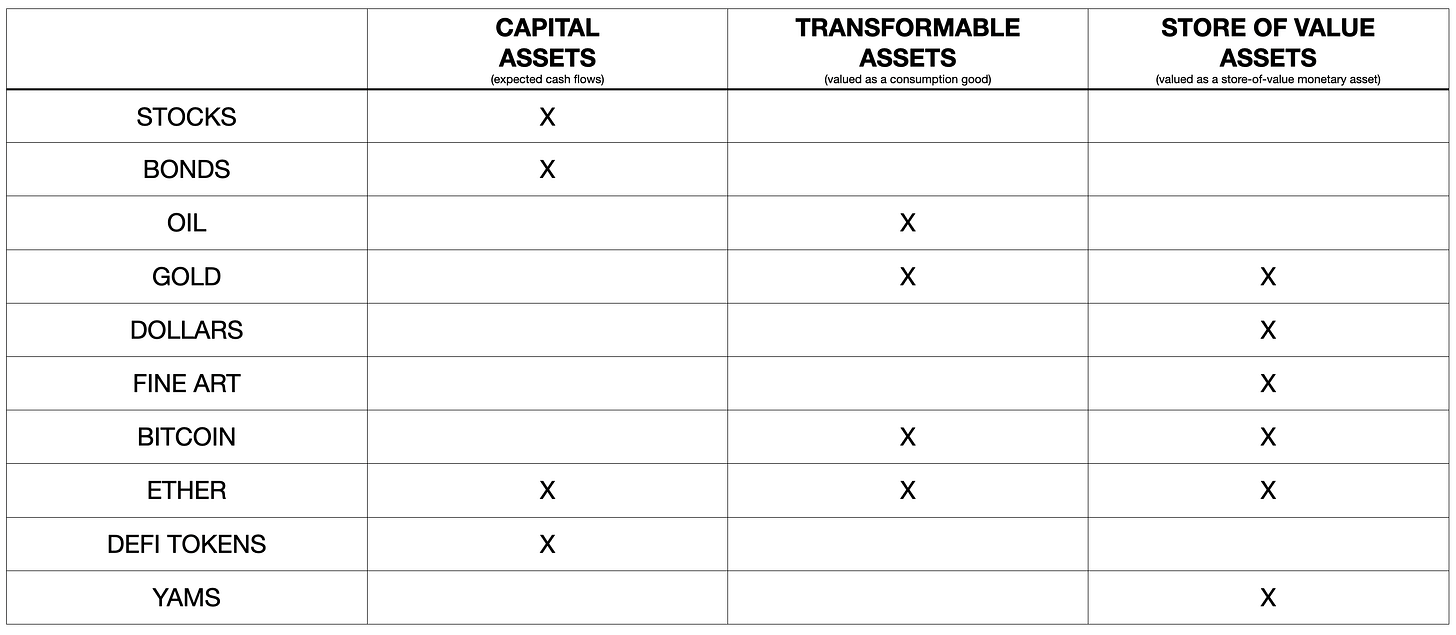 Growth expectations may be right or wrong for particular capital asset, but over time its base valuation should revert to the cash it's able to generate in the future.
For a DeFi token, cash flows are generated by protocol revenue.
We've talked about this. We've written about thisextensively. As an industry, we've made great progress on valuation charts and standardized metrics.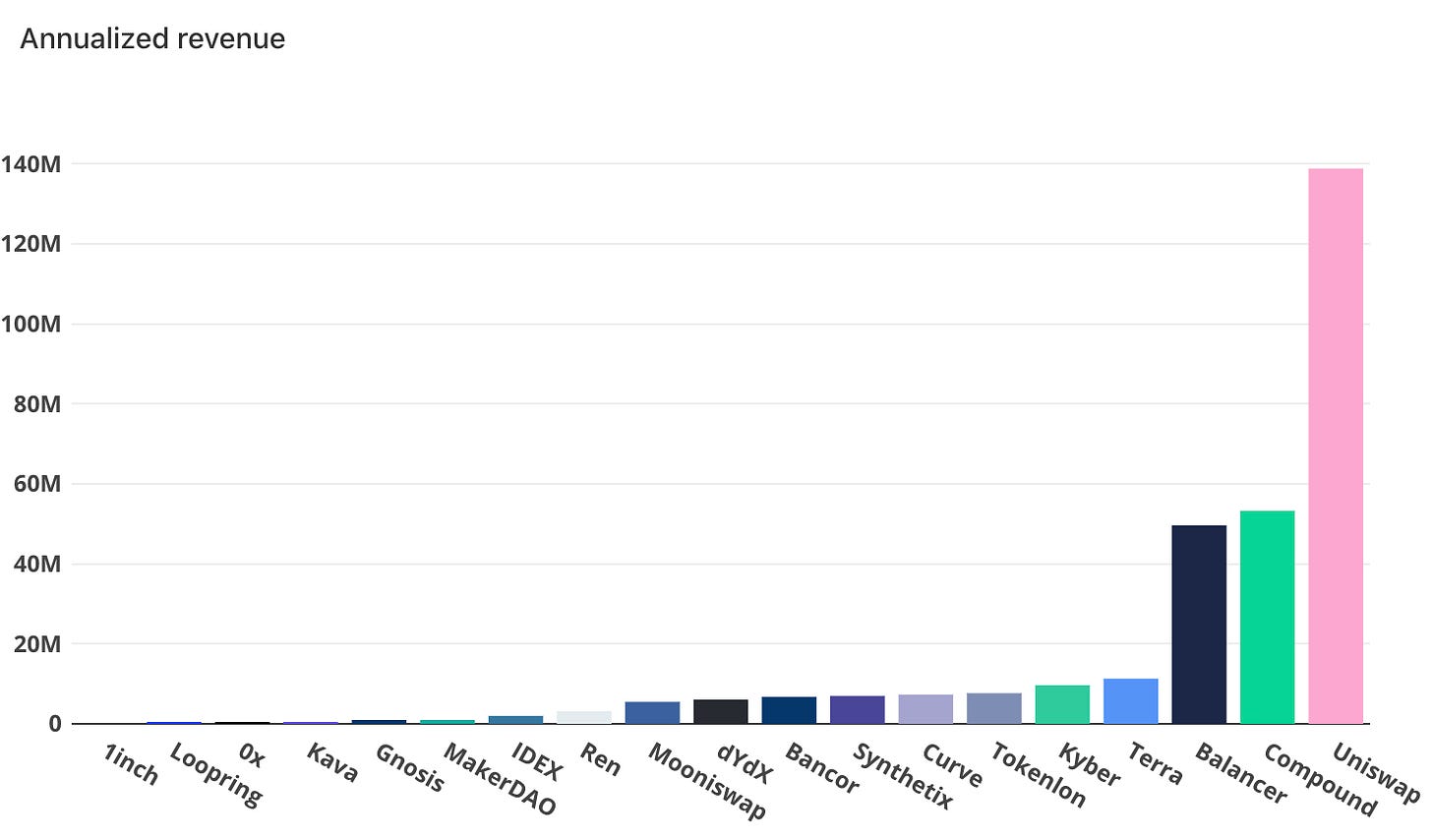 But what if we're missing something hiding in plain sight?
What if we're missing a massive source of future cash flows for these DeFi tokens?
Stocks on steroids
An AAPL share entitles you to a portion of Apple Inc's future earnings.
Over the last year, 1 APPL share entitled you to about $13 in earnings. Some of these are paid as dividends, most are re-invested into Apple. Buying 1 share of APPL at $500 means you're paying about $38 for $1 in annualized earnings—that's P/E.
But what if you could take your 1 share of APPL, lock it in a brokerage account, and start generating TSLA shares?
Your $500 APPL share wouldn't just be worth $13 in annualized APPL earnings, it'd be worth that PLUS all the TSLA earnings.
What's the value of 1 share of APPL if it gave you the ability to get 1 tenth of a TSLA share over a 12 month period of time?
$13 (Apple earnings)

$210 (1/10th value of TSLA share)

Earnings per APPL share = $223
Buying APPL at $500 would give you $223 in annualized returns! You'd be paying $2.2 for every $1 in annualized profits! Then imagine if TSLA doubled… 🤯
Stocks on steroids…crazy scenario right?
This is exactly what's happening with DeFi Tokens
DeFi tokens generate protocol revenue, yes. But with yield farming, they have the power to generate assets too! That's a MASSIVE additional revenue source!
What's the value of SNX?
Well…it's generating about $7m annualized today. Buy 1 SNX today and you're paying about $166 for every $1 in earnings—close to AMZN P/E ratio—not crazy.
But what if you could suddenly lock up your SNX up and start earning 2 YAM per month? And what if those YAMs become worth $100 each? That's an extra $1,200 per year!
Would you buy 1 SNX at $6 for at least $1,200 in annualized earnings? I think yes.
Of course…markets are more dynamic than this simple example. As more SNX is locked in a YAM farm, YAM returns per SNX decrease. And as farming opportunities for SNX arise, the price of SNX increases.
This is exactly what we've observed. The market got efficient and repriced up all the DeFi tokens used to farm YAMs. Look at the price increase of these 6 farming tokens on August 13th during peak YAM.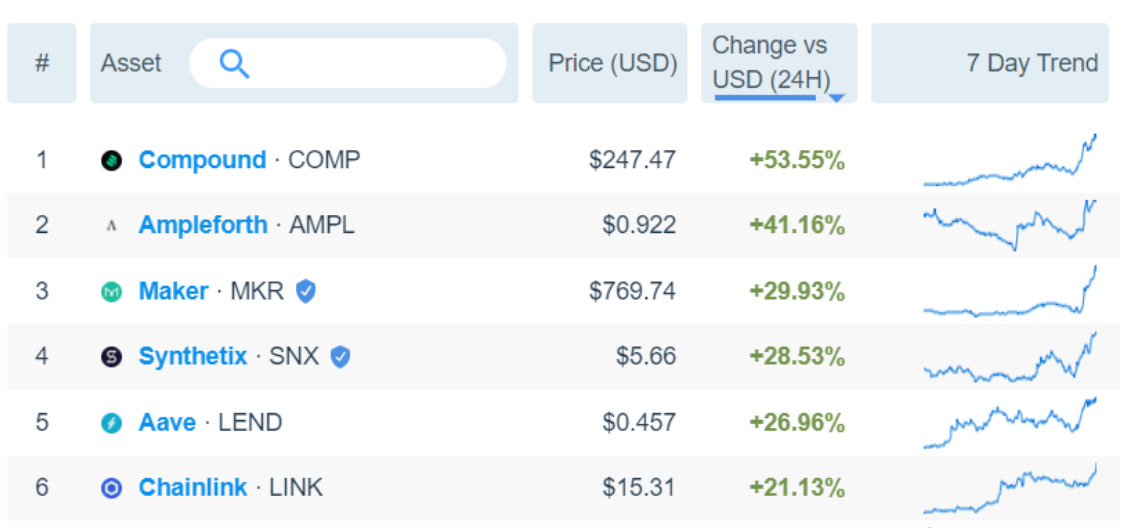 DeFi tokens aren't just valued by protocol revenue. You have to add yield revenue too.
There's a farming token premium!
What are the implications of the farming token premium?
I'll leave you with three implications:
Yield farming may greatly boost the price of certain DeFi tokens this cycle—tokens with highly sought-after communities will benefit most from this yield farming premium. 💪


Anything tokenized on Ethereum becomes a candidate for a yield farming premium, even monetary assets like ETH and tokenized BTC—this makes Ethereum-based higher value, which draws more assets to Ethereum. 🧑‍🌾


Notice the departure from DeFi asset valuations based on cash flows to asset valuations based on the farming of highly speculative meme-backed assets like YAMs—this could be the recipe for a 2017-like bubble. 🤑
Update your models.
If you think yield farming is a fleeting fad, this may not matter.
But if you think yield farming is just getting started and will become a fixture of this current bull cycle—like ICOs in 2017—then the farming token premium might drive prices more than any fundamental you think you understand.
It's not clear to me if all of this is good. But it may be our reality.
Buckle up and be careful.

- RSA
---
🙏Sponsor: Aave—earn high yields on deposits & borrow at the best possible rate! 
---
🎙️NEW EPISODE
Listen to episode 27 | iTunes | Spotify | YouTube | RSS Feed
---
MARKET MONDAY:
Scan this section and dig into anything interesting
MARKET MONDAY:
Scan this section and dig into anything interesting
Market numbers 📊
ETH slumps -8.4% to $403 from $440 last Monday

BTC dips -4.9% to $11,759 from $12,375 last Monday

TVL extends +6.9% to $6.79B from $6.35B last Monday

DAI stability fee holding 0.00% with savings rate sitting at 0.00%
Market opportunities 🤑
Check out the Deal Sheet for other Bankless deals—updated weekly!
---
Yield Farming 🌾

What's new 🗞️, what's hot 🔥, & money reads 📚

---
Governance

---
WHAT I'M & WHAT YOU'RE DOING

---
WEEKLY ASSIGNMENT:
How to trade tokens on Loopring DEX.
Loopring is a highly scalable decentralized exchange, with the ability to process thousands of requests off-chain. With the help of ZKPs, Loopring enables ~2,000 TPS to make it feel like you're using a centralized exchange as trades settle near-instantly.
The best part about Loopring is that you can pay as little as 1 cent per trade-in gas fees (which is huge these days). If you want to know what the future feels like, try trading on Loopring!
DeFi Dad shows us 3 reasons why you should be trading on Loopring including the following:
1️⃣ How to register with Loopring and deposit assets
2️⃣ 3 reasons to be trading on Loopring
3️⃣ Recap of risks
👉Check out Bankless YouTube for & tactics by DeFiDad!
👉Check out DeFiDad's YouTube channel for extended tactics
Disclosure, Disclaimer, & Risks: Loopring did not pay DeFi Dad to produce this video. This is not financial advice and you should approach all DeFi applications, wallets, and protocols with caution. Please be aware there is always risk in using DeFi!
---
Extra Credit Learning

---
Some recent tweets…
Ethereum Killers?? More like Layer 2 killers — or at least they're trying to be!!
Bankless Legends — you gotta earn it
---
Actions
---
Go Bankless. $12 / mo. Includes archive access, Inner Circle & Badge—(pay w/ crypto)
---
🙏Thanks to our sponsor
Aave is an open source and non-custodial protocol for money market creation. Originally launched with the Aave Market, it now supports Uniswap and TokenSet markets and enables users and developers to earn interest and leverage their assets. Aave also pioneered Flash Loans, an innovative DeFi building block for developers to build self-liquidations, collateral swaps, and more. Check it out here.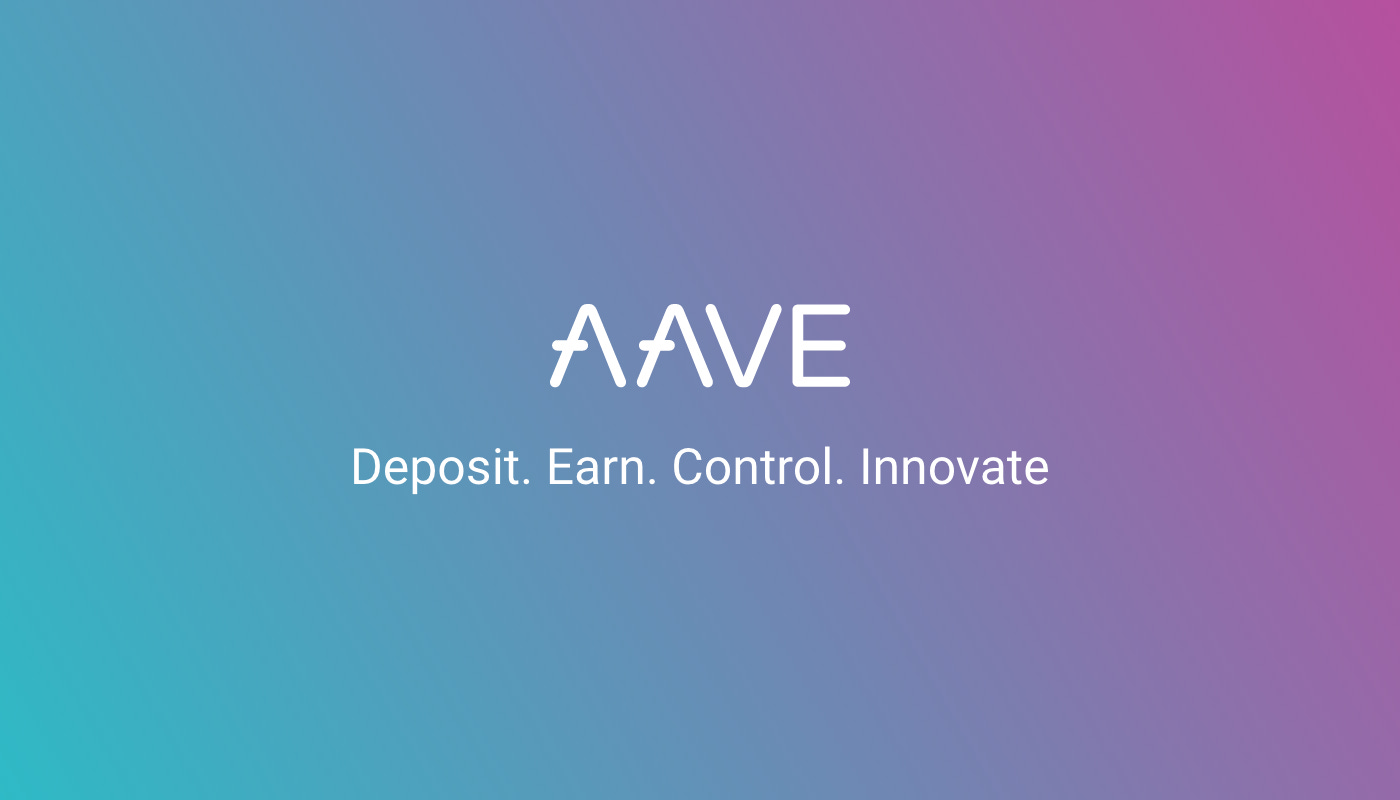 ---
Not financial or tax advice. This newsletter is strictly educational and is not investment advice or a solicitation to buy or sell any assets or to make any financial decisions. This newsletter is not tax advice. Talk to your accountant. Do your own research.
---
Disclosure. From time-to-time I may add links in this newsletter to products I use. I may receive commission if you make a purchase through one of these links. I'll always disclose when this is the case.