RSA w/ Compound's Robert Leshner (Lite)
A few surprises when I ask Robert if ETH is money, if he's bullish on DeFi, if Compound competes with Maker & more!
Level up your open finance game 3x per week. You're on the free version of the program so you're missing the best parts of this chat. Become a paying subscriber to get full access!
---
Dear Crypto Natives,
Happy Thanksgiving U.S. readers!
Sneak away from the turkey & read this when you can…this was really interesting.
I like Robert a lot. And Compound is one of the most successful money protocols on Ethereum today. The bullish case for DeFi and for Ethereum the network, the value of decentralization in protocols—there's much we agree on.
But there were a few things we disagree on—I think ETH is a commodity money, an emerging store-of-value, and will remain the best long-term trustless collateral on Ethereum. Robert sees ETH as fuel, short-term collateral only, and not sustainable in the long-run. (He's not bullish on BTC either)
I enjoyed hearing his perspective. And I'm reminded again that the bankless movement is a big tent. There's room for many opinions.
And I'm also reminded why BTC and ETH are priced as they are. Many don't think they'll accrue and retain monetary premium—even active builders of these systems. But if everyone expected them to become major non-sovereign value stores, well, there'd be no upside for us.
Risk and reward is funny like that.
Let's level up!
- RSA
---
🎁A Black Friday Deal
This is a taste of my chat with Robert but the best parts are only available to Bankless paid subscribers. Why are you still missing the best parts of this program? Here's a way to fix it. Get 10% off if you subscribe before by Friday.
---
THURSDAY THOUGHT
Growing DAI to trillions:
RSA w/ Compound's Robert Leshner
Note: this conversation has been edited for brevity. Bolding mine to highlight the main points.
The skeptic converted
RSA: If I recall you were a bit skeptical of crypto at first. Now you're helping to lead a major crypto protocol. How'd that happen?
RL: I was skeptical at first. I dismissed Bitcoin multiple times after reading the whitepaper. I remember just laughing when it crossed a dollar thinking "you can't create money out of thin air, so have fun everybody experimenting with Bitcoin"
In 2013 I dabbled in mining to get a sense of the economics of the system. But I lost interest soon after. My realization: while Bitcoin has a lot of interesting properties it wasn't fundamentally interesting to me.
Flash forward to the Ethereum whitepaper, again I was initially dismissive. Too complex, an entire virtual machine, I was skeptical it would ship and skeptical that smart-contracts would work. It wasn't until the DAO that I said "wait, not only has Ethereum shipped, but you can program assets and organizations with it?" You could program anything with it. It was so awe-inspiring and powerful in that moment that I was immediately full-on excited about Ethereum.
Are ETH and BTC a store-of-value?

cDAI as a store-of-value

Non-sovereign DAI
RSA: Part of the magic of Dai for many people is that it's backed by a non-sovereign store-of-value. Are you attracted to this property of crypto or does that not appeal to you?

RL: I think that's actually extremely appealing to a large number of people around the world. Just having an asset that's self-sovereign and has stable value is very powerful. You're essentially delegating to the Maker community the confidence that they can maintain the value without engaging in shenanigans. And given the parameters of the system there's a high amount of confidence that they can maintain the Dai peg.
Some Dai use is extremely utilitarian—for example sending money across borders without middlemen. It's not because we're trying to engage in any awkward behavior it's literally because there are massive frictions around international payments and settlement. So having neutral store-of-value currencies can bring a significant efficiency for a lot of people.
But right now Dai is inefficient—using it still feels very clunky. Will it feel clunky in 5 years? No. A lot of crypto is going to feel a lot better in 5 years just from the user experience perspective. I don't think Dai is at the point where it can be used as an alternate currency, but it has signs it's headed in that direction. And that's the promising part about it.
What is ETH then?

Are you saying BTC is special?

Let's talk about DeFi
RSA: Are you bullish on DeFi then?
RL: Yes, I'm extremely bullish on DeFi. You have to first define DeFi because I think a lot of people have a lot of different perspectives.
DeFi is having a transparent, auditable, autonomous series of financial contracts and activities. And I think that's extremely powerful because it really challenges existing financial instruments. A lot of traditional financial activity is opposite—it's opaque, it's manual, it's complex, it's closed. What I love about DeFi is that's it's all the positive virtues that financial markets should have. No one can argue with financial markets being more transparent, more auditable, more efficient.
It doesn't have to mean Ethereum smart-contracts but DeFi has a very bright future ahead of it. We might see more and more financial markets blending with DeFi. The ability to operate in a transparent, autonomous, way onchain—it's a better and more fair financial system.
RSA: What about composability and programmability—is the money legos meme part of the value proposition here too?
RL: Yeah, the money lego thing is a very significant piece of value. What's interesting is that it wasn't even possible until this wave of Ethereum DeFi. There's composability of products in the traditional finance world too—but in DeFi each money lego is more transparent, more understood, easier to value, more fair—a better lego itself.
Will Ethereum lead DeFi in the future?
RSA: Where does DeFi live in the future, just on Ethereum? Or is there a DeFi interchain and how does that impact composability?
RL: Ethereum has a really good headstart that gives it an advantage. There's already a critical mass. So if you're deciding where to add a project Ethereum is the logical answer because it's instantly interoperable with every other money lego. That's very powerful. It's a network effect. And that network effect is growing.
I think it's possible that another platform can start to gain dominance, especially as there's connections between blockchains. Cosmos for example attempts to bridge multiple blockchains, you can have activity that doesn't have to live in one place. But if you look at how Cosmos operates and how it moves state and value, you might not have the same level of interoperability as you would if everything is in on Ethereum.
It gets more complex in Eth2 with shards, and activities have to go between shards and store state in different places, but for the world we live in right now it seems very clear that Ethereum is the dominant platform and will continue to be the dominant platform for DeFi in the near future.
Crypto Banks vs Money Protocols

The decentralization of Compound
RSA: Compound had some controversy regarding it's level of decentralization a couples months ago. How is it moving in the direction of decentralization?
RL: It's funny because I think every single DeFi project is on a spectrum—no project is fully decentralized—there's still access controls even in Maker and every other project out there. It just so happens because of Compound's growth we had the luxury of being in the spotlight for a bit.
Our goal is for there to be no central administrator whatsoever. No access controls. And no emergency buttons. Which is a really dangerous and hard things to get to.
One of the reason so many protocols have access structures is because building onchain is extremely dangerous. This is all experimental technology. Ethereum itself is experimental. And these are protocols that are routing value around.
We're still finalizing the theories on how we want to hand off the administrative rights of our protocols—our administrator is responsible for adding new assets, upgrading the protocol and maintaining the parameters of the protocol. But our core thesis is that the applications that build on top of Compound—the Dharmas of the world—are the agents best equipped to govern administration of Compound and our goal is have these applications share responsibility for the protocol over time.
How does Compound get to 10s of billions?

Do the crypto banks had a hidden advantage?
RSA: Are money protocols limited by requiring all loans to be over collateralized? Could the crypto banks out compete them by moving to fractional reserve models and becoming more capital efficient?
RL: The reason money protocol require excess collateral is so that there's not human judgement in how they operate.
Yes, it removes a lot of the ways borrowing and lending work traditionally. But I think that's an good because you can interact with it and know what you're getting on the spot. Machines can build on top of it more easily. That's a significant advantage for crypto banks with businesses, with humans, and with large organizational footprints because it allows them to expand away from human judgement and towards instant autonomous financial activity.
Maker vs. Compound

Going Mainstream
RSA: There's 30k or so users of these bankless money protocols. That's small. How do we go mainstream?
RL: The user experience is the challenge. The systems are starting to be battle-tested enough, but the user experience is extremely difficult. You still have to store your own funds and interact with crypto assets and use an Ethereum blockchain—and it's very cumbersome still. There's a long gap before it's usable by everybody.
In a lot of ways I don't encourage users unless they're technically competent and open to risks to use DeFi. Just because most people have to custody their private keys in some way—and that's probably more risk than most DeFi applications by a long shot. The amount of crypto lost and stole each yeah is exorbitant. The process of operating in crypto is very challenging.
I think the way it changes is that applications get built on top of protocols like Compound that are user-friendly, that aren't cumbersome, that aren't as complicated, that don't require complex crypto expertise to navigate.
I'm particularly excited about projects like Dharma for exactly that reason. They have a chance to abstract all of the complexities of interacting with Compound to a user base. To build fiat on and off ramps, to provide a customer experience which is phenomenal. I think that's really the next wave to help people interact with DeFi.
The risks of Compound

Value capture

Final thoughts
RSA: Anything else you want to leave us with?
RL: Yes. The Bankless community are the pioneers. This is fertile ground for the future of how finance operates. And that's very cool.

Actions
Consider: are you bullish on money protocols like Compound?

Consider: what do you think of Robert's take on BTC and ETH as assets?
---
Subscribe to the Bankless program. $12 per mo. Special Black Friday deal may apply.
---
👉Send Bankless a DAI tip for today's issue
---
Filling out the skill cube
We covered a lot here. Crypto money, banks & protocols, how it all fits together to build a better financial system. You leveled up on all layers of the skill cube today.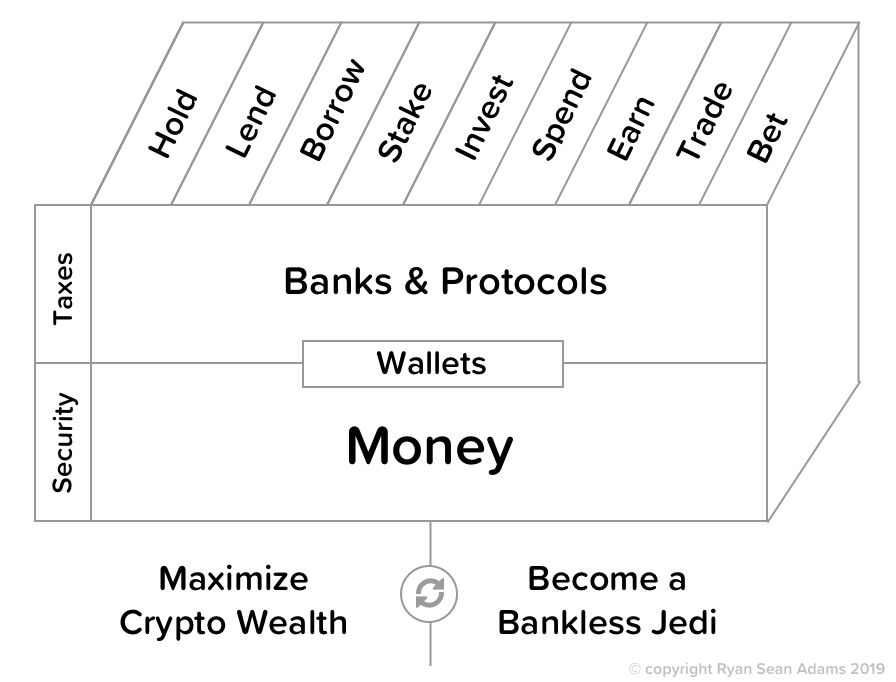 ---
Not financial or tax advice. This newsletter is strictly educational and is not investment advice or a solicitation to buy or sell any assets or to make any financial decisions. This newsletter is not tax advice. Talk to your accountant. Do your own research.
---
Disclosure. From time-to-time I may add links in this newsletter to products I use. I may receive commission if you make a purchase through one of these links. I'll always disclose when this is the case.