Ethereum vs. Delaware - Market Monday LITE (09/14)
Why an Ethereum DAO is the 21st century Delaware LLC
Level up your open finance game five times a week. Subscribe to the Bankless program below.
---
Dear Bankless Nation,

I registered a new business entity recently. It kinda sucked.
Not because it was any worse than it had been. But because I've now experienced something so much better. It felt like a landline in the era of smartphones.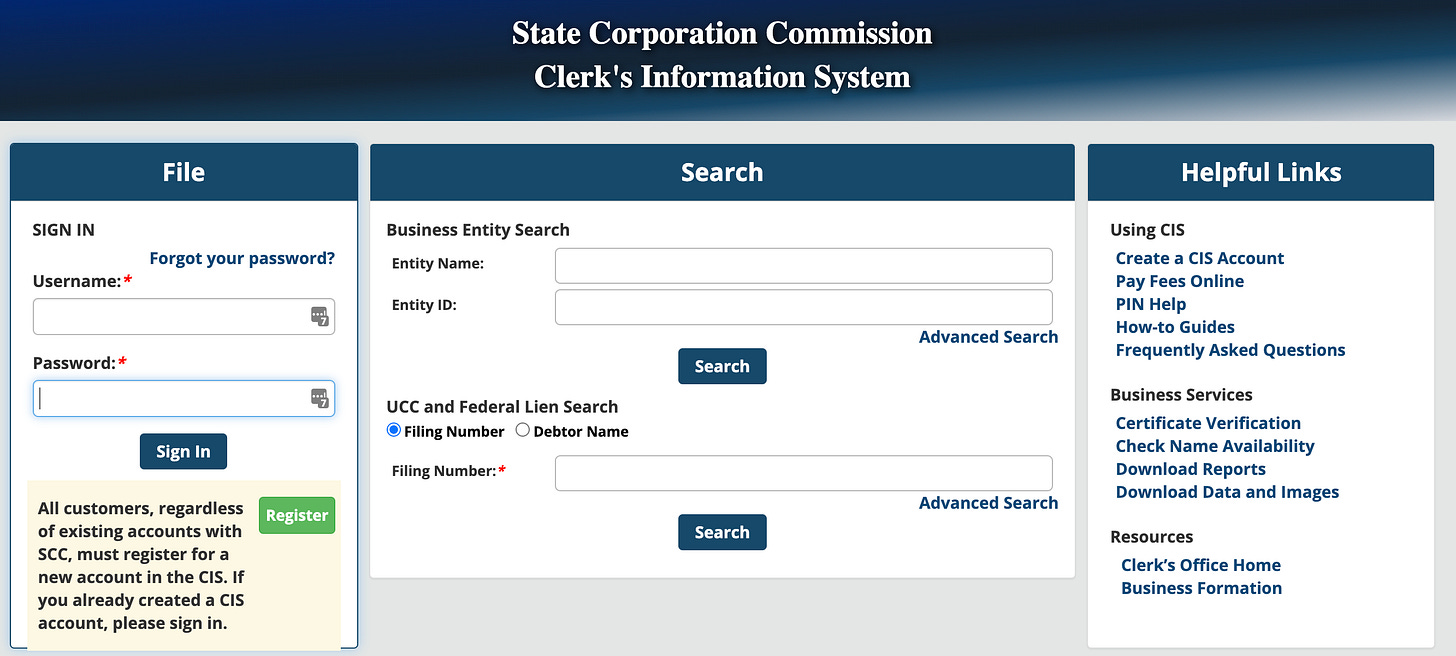 This is the website for the State Corporation Commission of Virginia. Every state in the U.S. has one. It's the interface layer for a central database of legal entities—LLCs, S-corps, C-Corps—all Virginia registered entities are here.
If you want to organize capital in the economic geography of the United States of America you need an entry in a database like this. By organize capital, I mean starting a business, creating a fund, forming a partnership—basically anything related to pooling resources with others to accomplish something.
Why do you need an entity?
To coordinate capital.
That entry in the database—the registration of an LLC—that gives your entity the protections of the U.S. legal system. It solves coordination problems. Say you have three founders, a product idea, and a market to capture, how do you trust each other to share in the costs and upside of this venture? Well…you register a Delaware LLC, split equity, and draw up an operating agreement.
Once registered your capital pool is settled in the U.S. legal system. Founder dispute? U.S. courts sort it out.
And once registered this capital pool becomes a recognized entity by the U.S. financial system. Want to store your entity's assets in a bank? Spend them? Lend them? The banking system requires a tax ID number (TIN). You only get a TIN by registering.
So I filled out the forms and paid a $100 transaction fee to register. Another $100 to get it done in two business days instead of ten.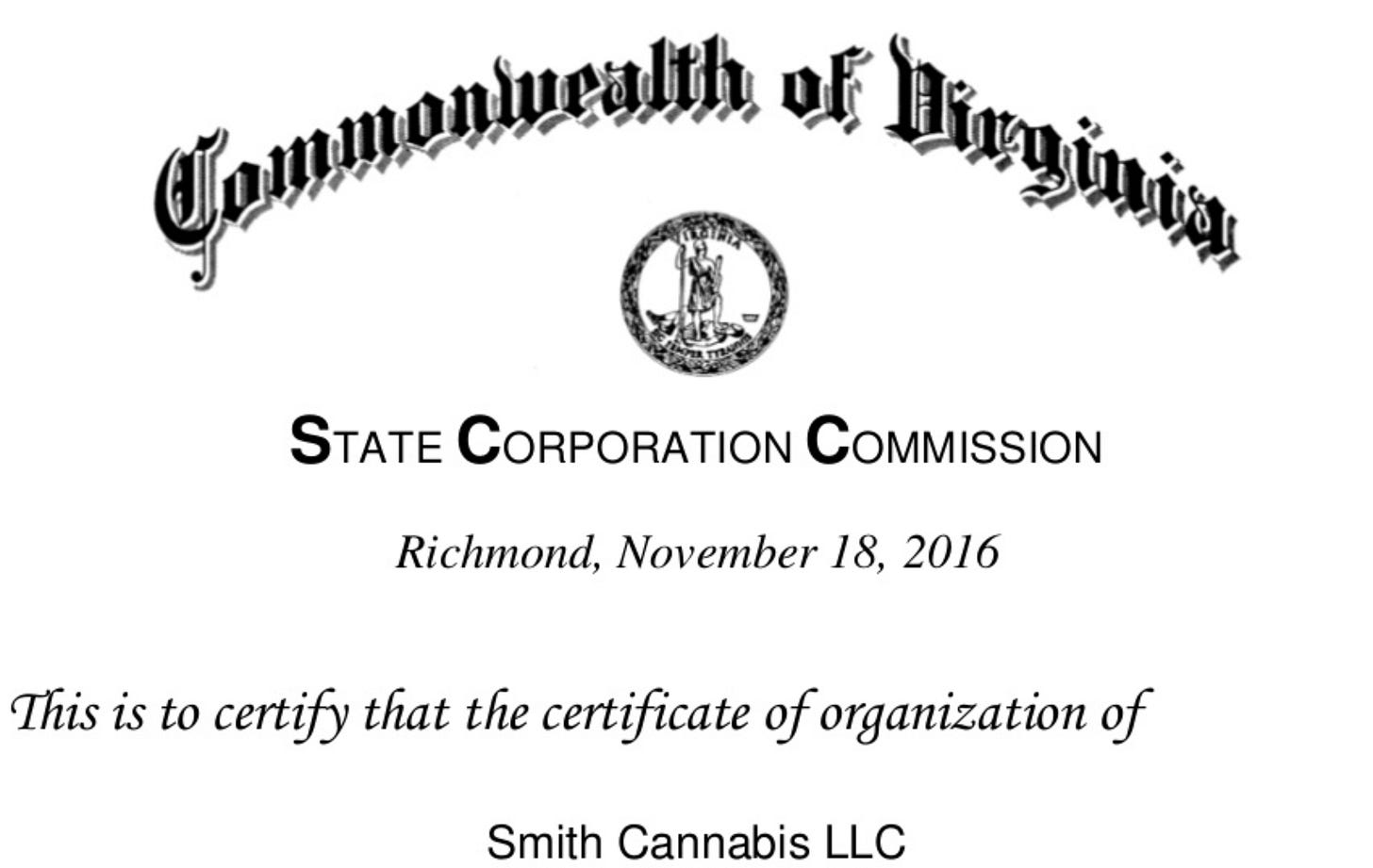 Soon I'll receive something like the above. A certification that my entity is registered on a state-run node of the legal entity ledger of the USA! With it, I'll get my unique TIN ID so my capital pool can get a bank account and pay its taxes!
With this, I can coordinate capital with my partners using a USA-settled entity! I don't mean to diminish this—it's a marvel of the nation-state leviathan & 20th-century tech.
But it all sucks compared to Ethereum.
An Ethereum DAO can already accomplish many things a Delaware LLC can't and at a fraction of the cost—no bank, no nation-state required.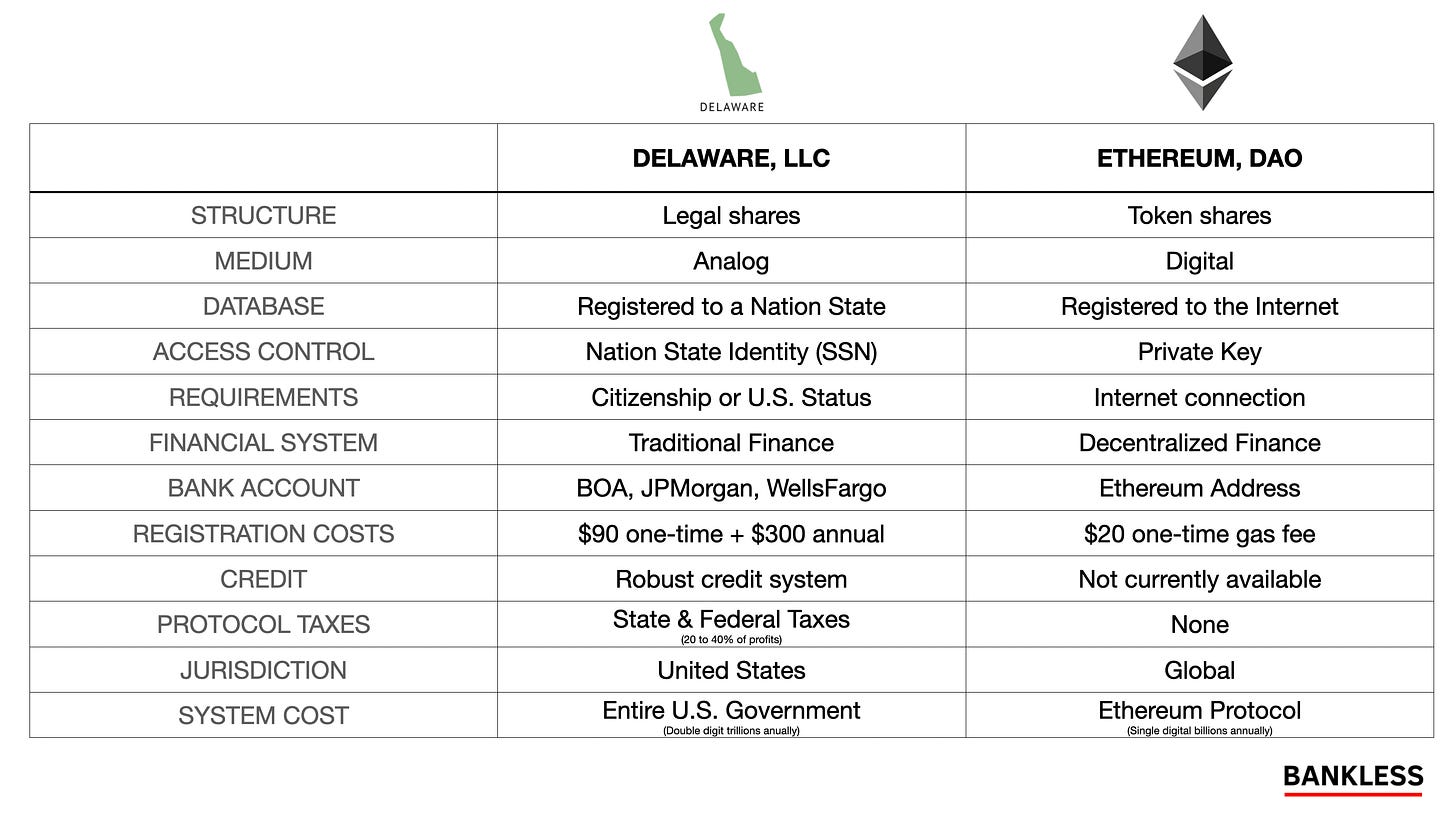 An Ethereum DAO:
Can coordinate capital and ownership interests with many parties (tokens shares)

Has access to a powerful internet-native banking system (DeFi)

Is programmable and inherently borderless and global (crypto native)
It comes with a better banking system. Easier setup. It gives access to a faster-growing economy. And humans are optional—robots can register, protocols can be partners.
Remind me why I need Delaware?
Of course! To pay my taxes.
I'm overstating the case right now. There are still things I can't do with Ethereum vs Delaware LLC. Credit is one. Real-world payments are tricky too. But how many things and for how long?
No, we're not there yet. There's reason to keep a foot in both worlds. To have a traditional bank account and an Ethereum address. To have a Delaware LLC and an Ethereum DAO.
Yes, there were 226k capital pools registered in Delaware in 2019.
But there were 39m Ethereum addresses registered in the last year and how many of these represent multi-party capital pools?
An Ethereum address is the 21st-century version of a bank account.
And an Ethereum DAO is the 21st-century version of the Delaware LLC.
The frontier is digital.
- RSA
---
🙏Sponsor: Aave—earn high yields on deposits & borrow at the best possible rate! 
---
🎙️NEW EPISODE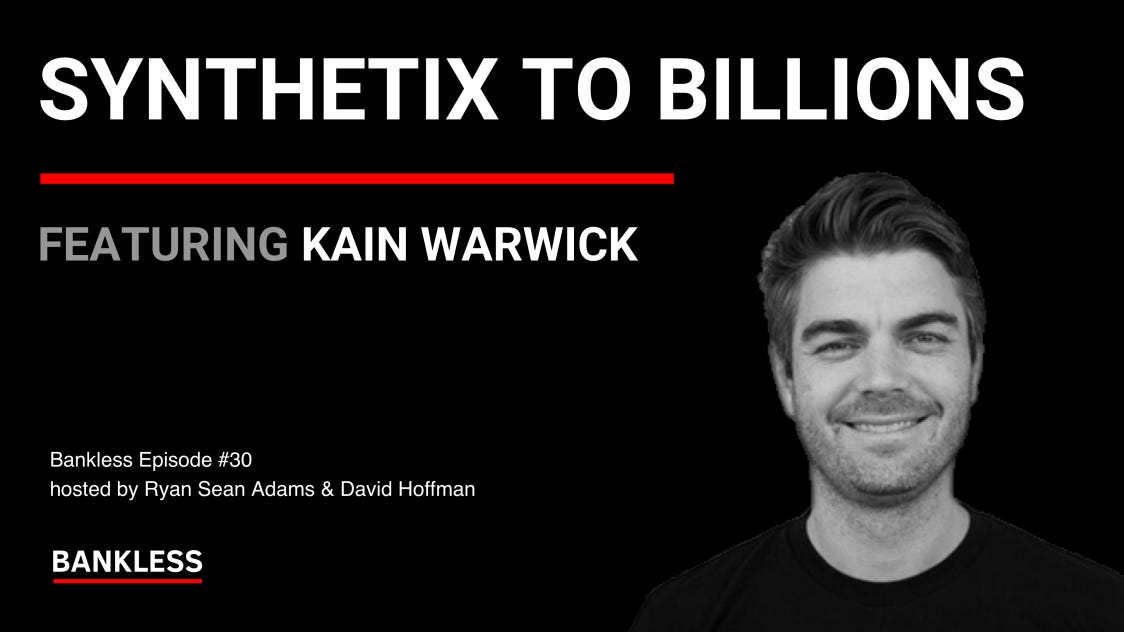 Listen to episode 30 | iTunes | Spotify | YouTube | RSS Feed
---
MARKET MONDAY:
Scan this section and dig into anything interesting
MARKET MONDAY:
Scan this section and dig into anything interesting
Market numbers 📊
ETH rises +9.1% to $381 from $349 last Monday

BTC climbs by +5.3% to $10,745 from $10,203 last Monday

TVL pushes up +9.5% to $8.64B from $7.89B last Monday

DAI base fee up to 2.00% for non-ETH collateral w/ savings rate steady at 0.00%
Market opportunities 🤑
---
Yield Farming 🌾

What's new 🗞️, what's hot 🔥, & money reads 📚

---
Governance

---
WHAT I'M & WHAT YOU'RE DOING

---
WEEKLY ASSIGNMENT:
Make time to complete this assignment before next week
DeFi Dad is back in action (he was moving across the country) and he'll be dropping an assignment TOMORROW on Set Protocol's new DeFi Pulse Index Set.
He'll show you how to buy the Set and get exposure to the top 10 DeFi tokens with automatic rebalances too! Stay tuned — dropping with our tactic from Lucas.
Meanwhile, you can check out OG Tactic #3 "how to hire a money robot from Set" to get prepped!
---
Extra Credit Learning

---
Some recent tweets…
The only good thing left from the internet are the protocols it's built on
---
Actions
---
Go Bankless. $12 / mo. Includes archive access, Inner Circle & Badge—(pay w/ crypto)
---
🙏Thanks to our sponsor
Aave is an open source and non-custodial protocol for money market creation. Originally launched with the Aave Market, it now supports Uniswap and TokenSet markets and enables users and developers to earn interest and leverage their assets. Aave also pioneered Flash Loans, an innovative DeFi building block for developers to build self-liquidations, collateral swaps, and more. Check it out here.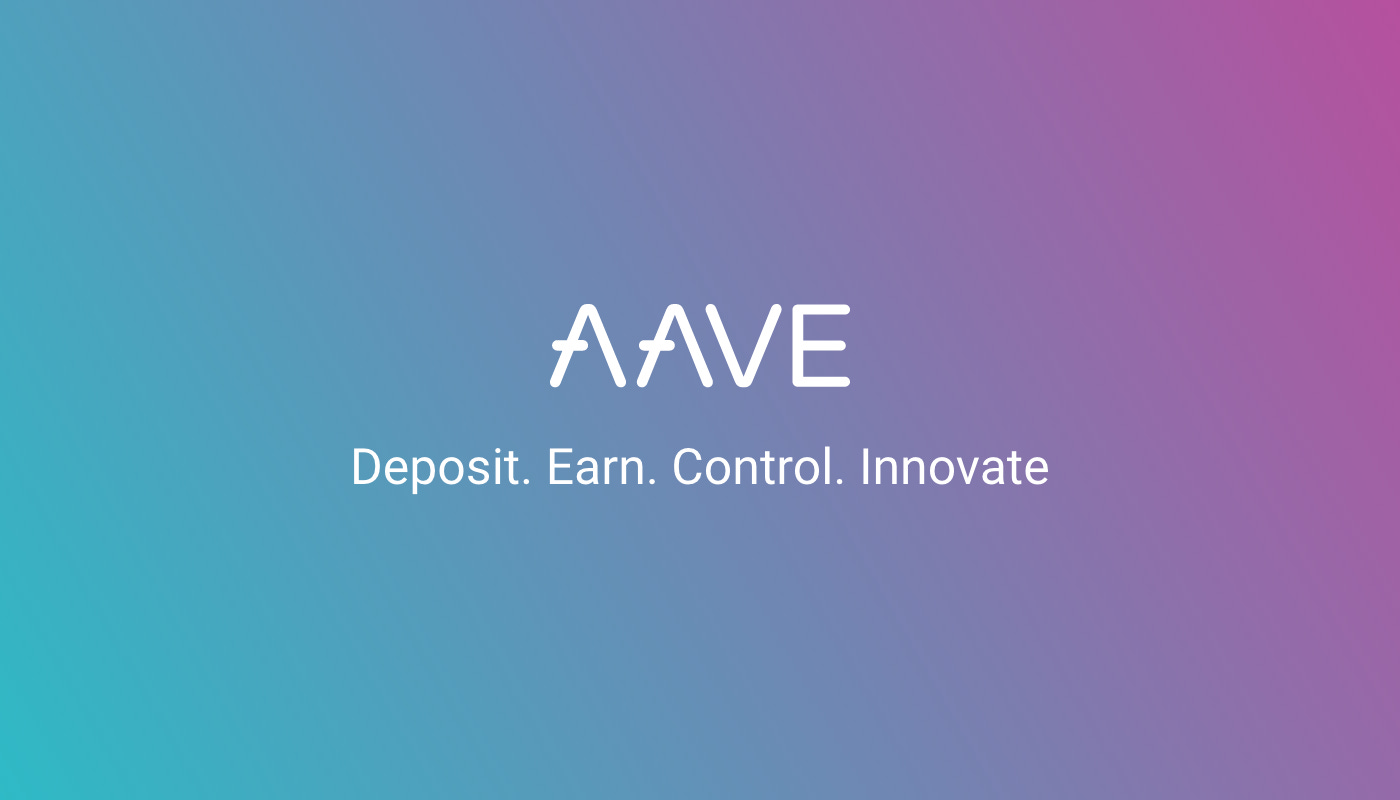 ---
Not financial or tax advice. This newsletter is strictly educational and is not investment advice or a solicitation to buy or sell any assets or to make any financial decisions. This newsletter is not tax advice. Talk to your accountant. Do your own research.
---
Disclosure. From time-to-time I may add links in this newsletter to products I use. I may receive commission if you make a purchase through one of these links. I'll always disclose when this is the case.