Crypto Gone Mainstream | Weekly Recap
Everyone is coming to crypto...
Get early access to podcasts, full Market Monday reports, exclusive debrief eps and more…
---
Dear Bankless Nation,
Crypto is leaking into the mainstream.
Take this for instance—cultural icon Jay Z is making a move in crypto. He turned his Twitter profile pic into a CryptoPunk, got an ENS domain, and auctioning off an NFT from his debut album "Reasonable Doubt" on Sotheby's.
These don't seem like sporadic moves, but calculated ones. Shout out to whoever's helping Jay Z with his NFT strategy. (Watch David and I discuss here)
At the same time, we saw the NFL's G.O.A.T., Tom Brady, and world-renown supermodel, Gisele Bündchen, partner with FTX exchange. This included an investment as well as promotional deal where it's been confirmed that the couple will get paid in crypto as part of it. (Crypto banks buying everything—we discuss it here)
Twitter's also diving into the world of crypto by launching their genesis NFT sale on Rarible. Yes…Jack Dorsey's company issued an NFT on Ethereum (say Ethereum Jack).
Then Compound launched Compound Treasury paving the way for institutions to earn a fixed 4% APY on USD using DeFi. (The DeFi mullet thesis)
To top it all off, Axie Infinity is seeing a massive surge in interest. The game is now making more money than most DeFi protocols, including MakerDAO—$11m last month. Make money by selling video game items? Where was this when I was 12??
There are literally people in the Philippines making living wage off this game.
Let's recap:
Cultural icons getting .eth addresses ✅

Sports legends endorsing crypto banks ✅

Crypto games earning ppl full time wages ✅

Banks adopting DeFi money markets ✅

Social media giants minting NFTs ✅
All in one week.
Crypto has leaked its way into mainstream. No stopping this train now.
Here's what's lined up for next week:
David's dropping his next piece on capital efficiency

William's going to show you how to get exposure to CryptoPunks

Robert Leshner is coming on State of the Nation to talk DeFi Mullets

Another episode of Top Signal coming Thursday! (watch episode #1 here)
With all this Bankless content…who needs Netflix?
- RSA
P.S. Alpha! Kyber Network just launched its liquidity mining program for its new Dynamic Market Maker (DMM). Learn more—APY's lookin 🔥
---
🙏 Sponsor: Aave—Experience DeFi: Deposit, Earn, & Borrow with Aave
---
Recap for the week of June 28th, 2021
---
Listen to podcast episode | iTunes | Spotify | YouTube | RSS Feed
---
ACTION RECAP
Watch & Listen
METAVERSAL 
🧙‍♂️
BANKLESS DAO 
🏴
---
Weekly Subscriber Perks 🔥
The Bankless badge gives you access to perks like these:
Launch your own raffle for Bankless Badge holders! Go ahead. We can't stop you.
---
📺 
Episode 5
2 of State of the Nation
🎙️Listen to Podcast Episode | 📺 Watch the Episode
We're now live streaming State of the Nation—join us at 2pm EST every Tuesday!
---
🗞️ Latest Weekly Rollup.Download the crypto meta to your brain in this weekly show.
Listen to podcast episode | iTunes | Spotify | YouTube | RSS Feed
---
---
Go Bankless. $22 / mo. Includes archive access, Inner Circle & Badge—(pay w/ crypto)
---
🙏Thanks to our sponsor
👉 Experience DeFi: Deposit, Earn, & Borrow with Aave
Aave is a decentralised, open source and non-custodial liquidity protocol enabling users to earn interest on deposits and borrow assets. Aave Protocol is unique in that it tokenizes deposits as aTokens, which accrue interest in real time. It also pioneered Flash Loans and Credit Delegation as innovative DeFi building blocks. The Aave Protocol V2 makes the DeFi experience more seamless with features that allow you to swap your assets for the best yields on the market, and more. Check it out here.
---
Tag Bankless on twitter and tell us how you're going bankless for 3 x 🔥
There's something brewing with DAOs…listen to our talk with Coordinape to learn more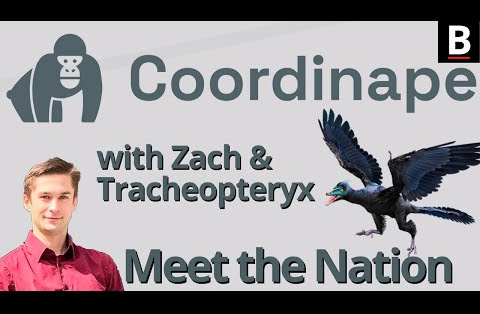 youtu.be
Coordinape - Zach & Tracheopteryx | Meet the Nation
Bankless Nation, meet Coordinape, a budding suite of DAO tooling to optimize emergent organization and DAO coordination.Come to learn what Coordinape is, sta...
---
Want to get featured on Bankless? Send your article to submissions@banklesshq.com
---
Not financial or tax advice. This newsletter is strictly educational and is not investment advice or a solicitation to buy or sell any assets or to make any financial decisions. This newsletter is not tax advice. Talk to your accountant. Do your own research.
---
Disclosure. From time-to-time I may add links in this newsletter to products I use. I may receive commission if you make a purchase through one of these links. Additionally, the Bankless writers hold crypto assets. See our investment disclosures here.