Are Stablecoins Parasites? (Market Monday - Lite)
Market Monday for February 3, 2020
Level up your open finance game 3x per week. You're on the free version of the program so you're missing the best level ups. Become a paying subscriber & get the full program below.
---
Dear Crypto Natives,
Ethereum is the dominant network for stablecoins—and they're growing fast.
Bank Stablecoins: Tether, USDC, PAX, TUSD, GUSD

Protocol Stablecoins: DAI
Together these represent over $3.2 billion in assets on Ethereum.
Messari made an interesting observation last week. The amount of value moved with these stablecoins now exceeds the amount of value moved using ETH on Ethereum.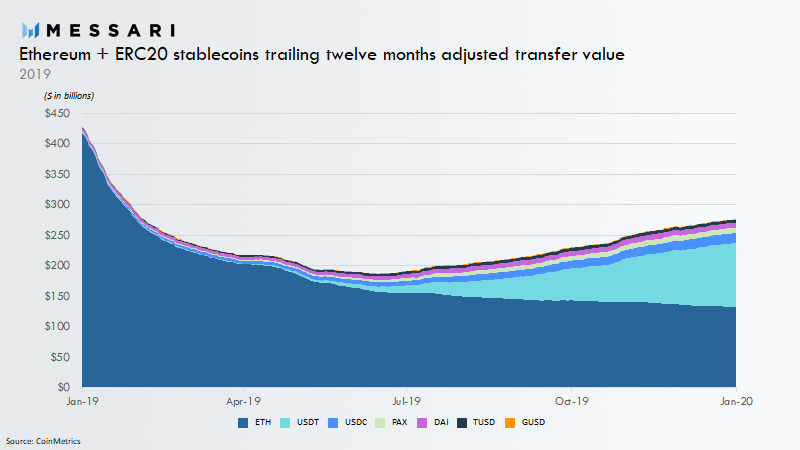 This trend started in Fall of last year and shows now signs of stopping.
The question posed: is this parasitic to ETH? If stablecoins become the money within Ethereum, does ETH lose its monetary premium?
This is the right question to ask. After all, the crypto money thesis is a bet on which cryptocurrencies will serve as a global base money. It's a bet on monetary premium.
So are stablecoins parasitic to ETH? Let's reason it through:
First, we can't limit monetary premium erosion to ETH only. A stablecoin on Ethereum is also a substitute for the global value transfer properties of BTC. We should be asking if stablecoins damage both BTC and ETH monetary premium.
Second, some stablecoins clearly propel ETH's monetary premium rather than harm it. DAI falls in this category since it is 98% backed by ETH as collateral. Since DAI helps ETH, only the bank stablecoins are potential parasites—disclude DAI.
Third, bank stablecoins are an entirely different beast than crypto native assets like ETH and DAI. Bank stablecoins settle through through the traditional financial system. Each $1 of USDC is backed by $1 in a U.S. Bank. Each $1 of DAI? That's backed by ETH collateral & settled in code on Ethereum—no bank.
Why's this important?
It means bank stablecoins aren't censorship-resistant. They aren't bearer assets. They can't serve as economic bandwidth for a trustless money system. They compete with digital dollars on Paypal more than they compete with crypto native assets like DAI, ETH, and BTC.
And here's the thing. As bank stablecoins on Ethereum compete and gain against traditional payment networks like Paypal, guess who know wins? ETH.
Two big reasons for this:
Bank stablecoins decrease ETH supply. How? Every transfer, every transaction, every use of a stablecoin in a smart-contract will reduce the supply of ETH and make it more scarce. Literally, by burning it.

Bank stablecoins increase ETH demand. How? Say the use of stablecoins brings 100m new people to the Ethereum ecosystem—wallets, DeFi, crypto banks, the whole thing. How many of those new users buy ETH—say 10% buy 5 ETH? That's 50m ETH of demand
Plus there's secondary network effects—more crypto banks with stablecoins? Stronger support for ERC20 standard. Greater likelihood they integrate Ethereum protocols like Compound and the Dai Savings Rate. More liquidity for ETH.
More stablecoin activity in Ethereum? More developers, more tooling, better wallets, more protocols, a more financialized Ethereum economy. Perhaps this neutral settlement layer becomes so integral to global economic activity that it's impossible for govs to ban—like the internet.
No, stablecoins aren't a parasite.
They're one of the biggest reasons to be bullish on ETH.
- RSA
---
We've got a shot at $1B locked in DeFi this week—$1B in assets would make DeFi one of the 700 largest banks in the U.S. How long till number 1?
---
MARKET MONDAY:
Scan this section and dig into anything interesting
Market numbers
ETH up to $189 from $172 last Monday

BTC up to $9,278 from $8,948 last Monday

DAI stability fee steady at 8% with savings rate steady at 7.75%
Market opportunities
New stuff
What's hot
Money reads
---
WHAT I'M DOING
Check out a few opportunities I'm capturing right now with my crypto money

---
WEEKLY ASSIGNMENT:
Make time to complete this assignment before next week

---
Extra Credit Learning

---
TAKES:
Read my takes but draw your own conclusions

---
TWEET-A-QUESTION
Tweet me your question—I reply to one per week
Question from Twitter:
Where does the 7.75% Dai Savings Rate come from to pay everyone?

---
Some recent tweets…
---
Actions
---
Level up—no interruption. $12 per mo. Includes Inner Circle & Deal Sheet.
---
Pay with crypto—using ETH, BTC, or USDC. Annual subscription only.
---
Not financial or tax advice. This newsletter is strictly educational and is not investment advice or a solicitation to buy or sell any assets or to make any financial decisions. This newsletter is not tax advice. Talk to your accountant. Do your own research.
---
Disclosure. From time-to-time I may add links in this newsletter to products I use. I may receive commission if you make a purchase through one of these links. I'll always disclose when this is the case.