🎙️Synthetix to Billions | Kain Warwick
Chatting with the founder of Synthetix on building community, solving coordination problems, his worldview, and bull market predictions
Level up your open finance game five times a week. Subscribe to the Bankless program below.
---
🎙️ NEW PODCAST EPISODE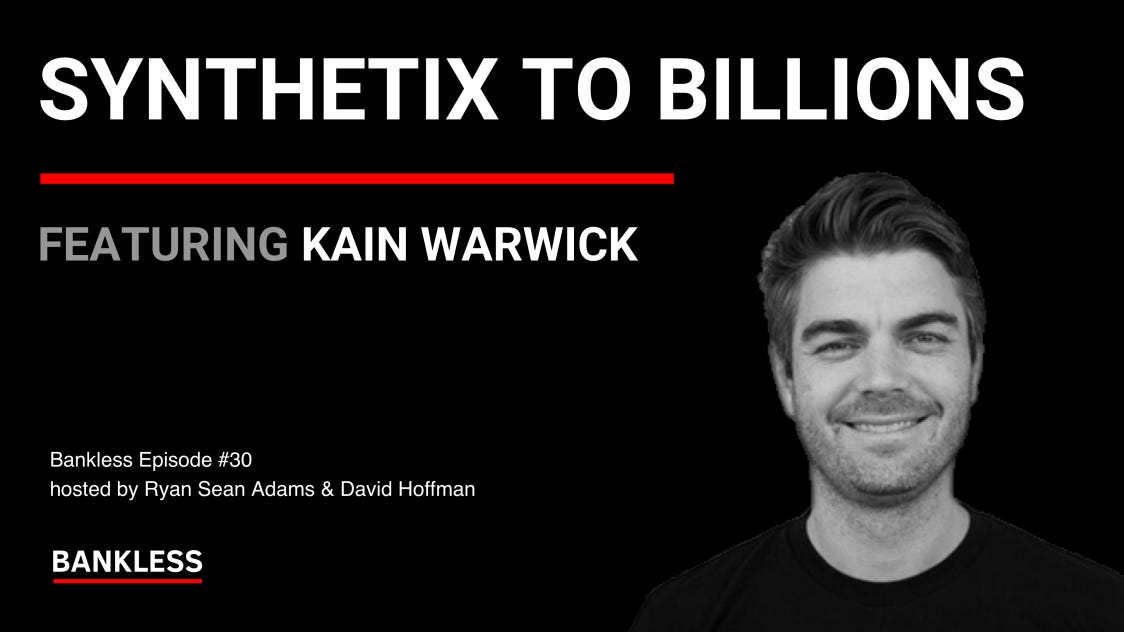 Listen to episode 30 | iTunes | Spotify | YouTube | RSS Feed
---
Tools from our sponsors to go bankless:
🌐 UNSTOPPABLE DOMAINS - GET A HUMAN READABLE CRYPTO DOMAIN
🌈 ZAPPER - THE ULTIMATE HUB FOR DEFI YIELD FARMING
💳 MONOLITH - GET THE HOLY GRAIL OF BANKLESS VISA CARDS
💸 AMPLFORTH - MONETARY EXPERIMENT FOR BASE MONEY
---
Episode: #30 - Synthetix to Billions | Kain Warwick




September 14th, 2020
Kain Warwick is the founder of the Synthetix Platform, a protocol for generating and trading synthetic digital assets. Kain himself is known for leaning towards crypto-anarchist side of the political spectrum
How did this come about? How has this impacted the building of Synthetix?
Synthetix itself has stood resilient against the 2018/19 bear market. Why? What was the unique advantage of Synthetix vs other 2017 ICO platforms?
What's next for Synthetix now that gas fees are 200+ gwei?
WE COVER:
1) Kain's political stance
2) How this reflected in Synthetix
3) Motivation and Grit around building and producing
4) Growing Community and Culture during a bear market
5) Degen Spartan, and 6 dolla SNX
6) Introducing the SIP process
7) Introducing Yield Farming
8) Recursive upside/downside to SNX + ETH collateral in Synthetix
9) L2 scaling with Optimism
10) Bull market predictions
---
Resources discussed:
---
Episode Actions
Read about Synthetix scaling w/ Optimism

Get ahead & learn about Synthetix's roadmap

Give us a 5 star review on iTunes!
Also...subscribe to Bankless YouTube to watch State of the Nation every Tuesday.
---
Subscribe to the podcast on iTunes | Spotify | YouTube | RSS Feed
Leave a review on iTunes
Share the episode with someone you know!
---
Don't stop at the podcast!
---
Go Bankless. $12 / mo. Includes archive access, Inner Circle & Deals—(pay w/ crypto)
---
Not financial or tax advice. This newsletter is strictly educational and is not investment advice or a solicitation to buy or sell any assets or to make any financial decisions. This newsletter is not tax advice. Talk to your accountant. Do your own research.
---
Disclosure. From time-to-time I may add links in this newsletter to products I use. I may receive a commission if you make a purchase through one of these links. I'll always disclose when this is the case